When choosing insulation for your home, there are so many different factors to consider. Above all, you want a solution that maximizes your household's energy efficiency. It should keep you and your family warm throughout the nippy British winters and pleasantly cool during the hot summer season. But you also want an affordable option that is good value for money and will lead to a significant reduction in your monthly utility bills.
You may also want your insulation to have other benefits, such as sound-dampening properties, an airtight seal, durability, fireproofing, and a low environmental impact. There are so many things to consider, and a huge range of different insulation materials from which to choose, each one boasting its own unique benefits. How can you begin to make your decision when you don't know the first thing about fibreglass batt or spray foam?
The following guide aims to equip you with all the knowledge you need to make your choice. It takes a look at a few of the most popular types of home insulation and the advantages and drawbacks that come with them. By reading this guide you will be able to make a more informed choice as to the perfect form of insulation for your circumstances. As a result, you and your family will live in great comfort all year round.
Fibreglass Insulation Pros and Cons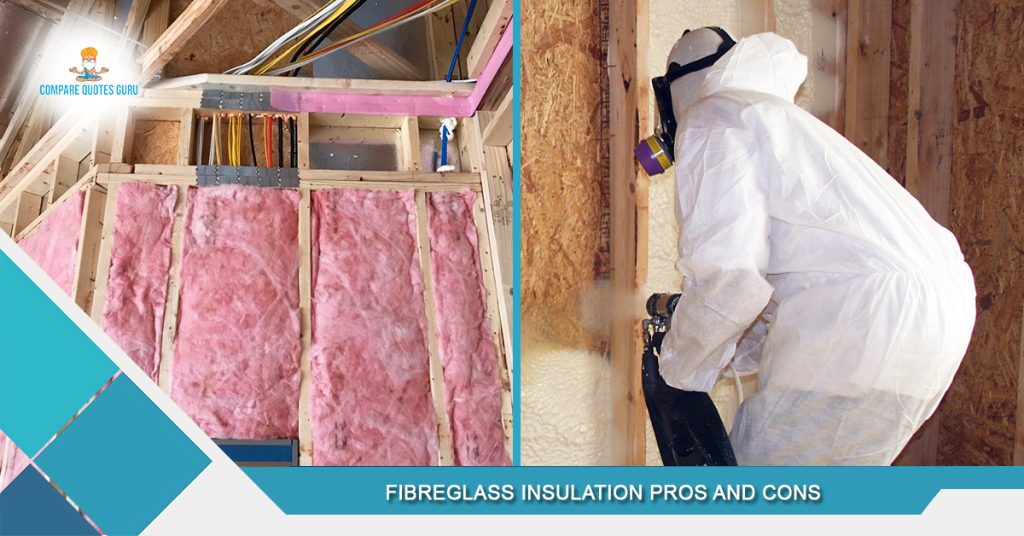 Fibreglass is probably the most common form of insulation seen in homes across the country, and as it's affordable and quick to install, it's easy to see why. It comes in rolls or pre-cut batts which can be spread out to cover the desired surface.
Pros:
Cost: Fiberglass is by far the most affordable variety of home insulation
Ease of installation: Batts and rolls are incredibly easy to put into place, meaning that you may be able to do it yourself without hiring an installer.
Availability: As the most common variety, fibreglass insulation can be found in any good hardware store or website.
Cons:
Health risk: Although safe to have in your home if you are installing fibreglass insulation yourself, you must be aware of the risks. It often contains the chemical formaldehyde which is toxic to humans. The material can irritate the skin and eyes, making protective clothing and goggles a necessity.
Durability:FIbreglass insulation can sag and dip over time, making it less effective.
Cellulose Insulation Pros and Cons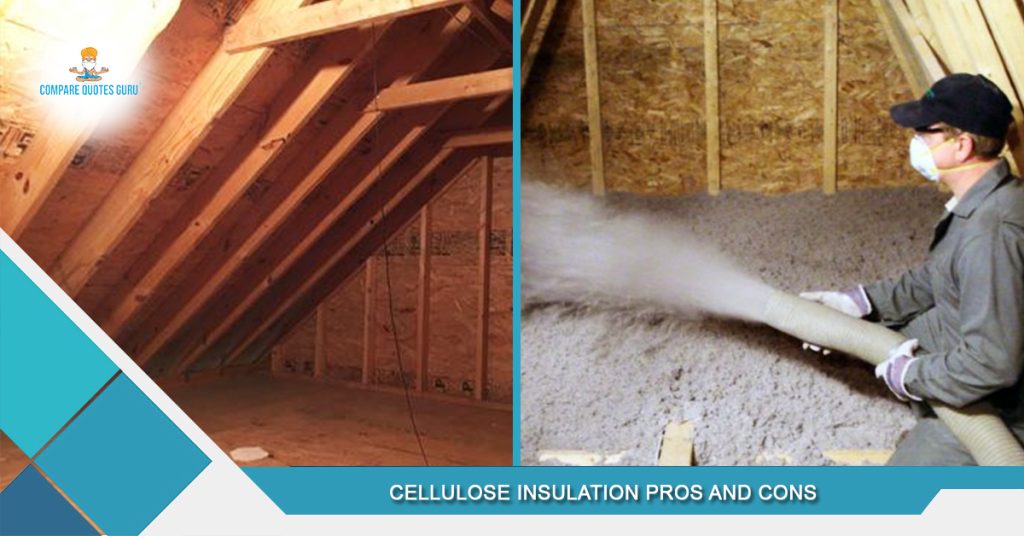 Cellulose insulation usually comes in the form of fluffy loose fibres made of broken-down paper, which means it can cover more space than traditional blanket or batt insulation.
Pros:
Environmental impact: Since it is made from predominantly recycled paper, it is one of the most eco-friendly types of insulation money can buy.
Value for money: Being made from recycled paper also means it is cheap to manufacture, and this cost-saving trickles down to you, the consumer. As well as saving money on your energy bills, you will also pay a smaller amount for purchase and installation compared to other varieties.
Fireproofing: The cellulose fibers are treated with boric acid, which makes them fire retardant. This will control the spread of flames in the event of an emergency and give you peace of mind in your home.
Cons:
Absorbency: Cellulose is not waterproof, meaning it absorbs and retains water. In prolonged wet and humid weather, it can lead to rot, mould, and mildew if not sufficiently protected.
Dust: Cellulose gives off a great deal of dust so you need to be careful and wear a mask when installing.
Effectiveness: Like fibreglass, cellulose insulation is liable to sag over time, thus reducing its durability and efficacy. It also does not create an airtight barrier, so will need to be paired with an additional seal to prevent airflow.
Spray Foam Insulation Pros and Cons
Spray foam insulation, of which is the most effective, is remarkably different from traditional forms of insulation. Rather than coming as a solid material, it is sprayed into open cavities as a liquid, which then sets and expands to fill the space. It forms an airtight seal against the surrounding surfaces and is one of the most powerful solutions you can buy.
Pros:
Energy-saving: With its impermeable seal, spray foam insulation cost uk is the best way of preventing energy loss. This will keep your home to the desired temperature all year round while simultaneously preserving natural resources and lowering your utility bills.
Convenience: If you opt for a professional installer, it is quick and easy to spray into place, creating minimal disruption to your life.
Breathable: spray foam insulation is open cell breathable spray foam which allows moisture on timbers to dry out leading to reduction in condensation and mold growth.
Environment Friendly: spray foam is 100% water blown product and contains no harmful chemicals making it one of the eco friendly insulation foam.
Cons:
Cost: The only significant drawback of spray foam insulation is the cost. Not only will you have to face a high initial outlay, but installation is also beyond the abilities of most homeowners, so you will need to hire a professional installer.
Rockwool Insulation Pros and Cons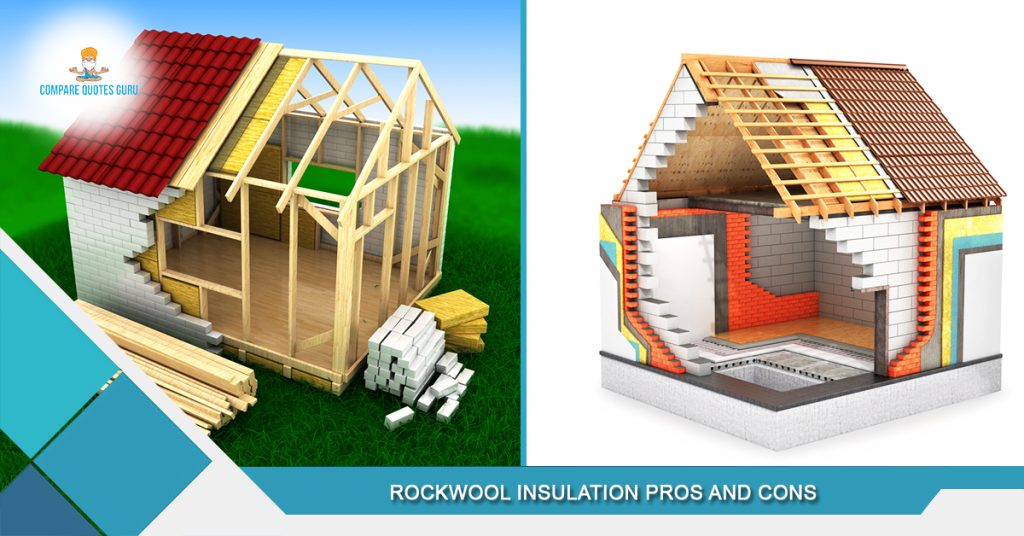 Rockwool, or mineral wool, is not as common as other forms of insulation but has slowly gained popularity in recent years. It is made from melted down basalt and slag which is then spun into fibers to be turned into blankets, batts, rolls, or boards.
Pros:
Ease of installation: Rockwool is easy to install and can be done yourself without too much trouble.
Resistance: Rockwool insulation is both extremely ware resistant and fireproof, making it one of the more durable options available to you.
Cons:
Cost: To get the desired insulating effect, you will need several layers of Rockwool insulation, which can be expensive. Especially if you have a larger home. You will most likely need between 10 and 12 inches of insulation.
Handling: Much like fibreglass, Rockwool has a high itch factor, and there is a risk of skin irritation and eye damage if you're not careful. Make sure to wear protective clothing when installing by yourself.
Conclusion
In conclusion, although there are so many different types of insulation with their own benefits and drawbacks, spray foam cannot be beaten for effectiveness and ease of installation. If you would like to learn more about the various merits of household insulation, get in touch with now for more information.
Cellulose Insulation Pros and Cons, Fibreglass Insulation Pros and Cons, Insulation Pros and Cons, pros and cons of spray foam insulation, Rockwool Insulation Pros and Cons, spray foam insulation, Spray Foam Insulation Pros and Cons, Spray Foam Insulation uk,